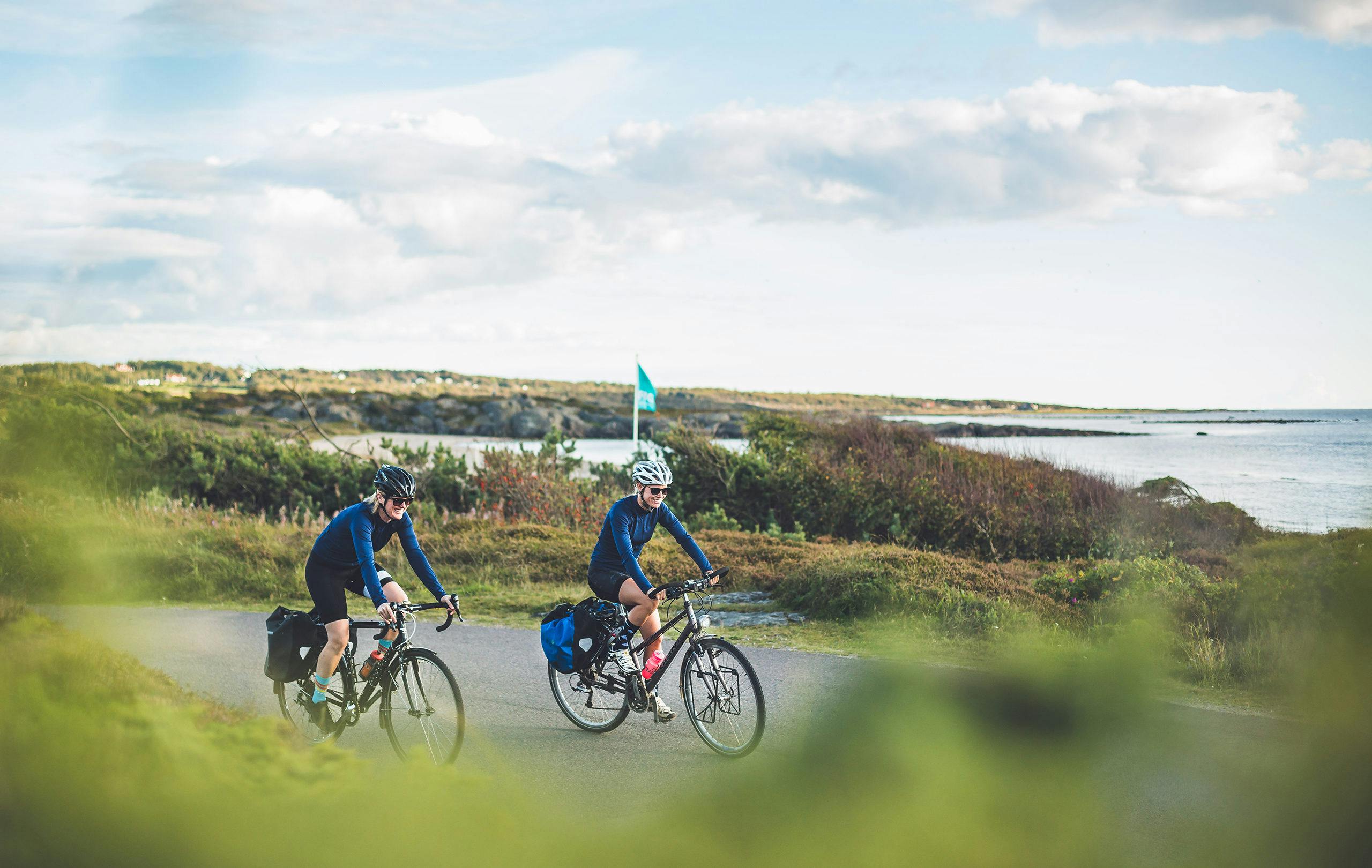 Kattegattleden
Kattegattleden – Sweden's first national tourist bicycle route.
Kattegattleden – Sweden's first national tourist bicycle route.
Kattegattleden is Sweden's first national cycle route. Beautiful fields are interspersed with sweeping views of the sea and all along the trail you will find delightful excursions, fine views and interesting sights. The entire trail is divided into 8 sections, so you can pick and choose the stretch you want.
Pedal lazily through quaint fishing villages and towns. Make a pit stop at a farm shop, a cafes or an art studio. Have a picnic at one of Sweden's finest sandy beaches, or choose secluded bathing bay for some quiet "me time." The Kattegat trail offers 390 kilometers of biking in a unique coastal setting – from Helsingborg in the south to Gothenburg in the north.
Stage 1. Helsingborg – Höganäs
Kattegatleden beings or ends, depending on how you see it, in the coastal town of Helsingborg in Skåne. From the city centre and northwards you cycle past the popular bathing places Gröningen and Fria baths, then move on past Sofiero castle and its farm with both a farm shop and café. Then you pass several picturesque fishing villages and marinas before you reach Höganäs.
Stage 2. Höganäs – Ängelholm
You cycle across the beautiful Kulla Peninsula that is dotted with art studios, farm shops and flea markets. The stretch is a mixture of low rolling, open fields and high, hilly terrain with a fantastic views.After Höganäs you pass small ports and beaches. The tour continues over the dramatic Kulla Peninsula that features the Kullaberg nature reserve. All along the route you have plenty of options to stop for coffee or a meal. This stretch ends at Ängelholm with its long sandy beach, crystal clear waters and mysterious sand dunes.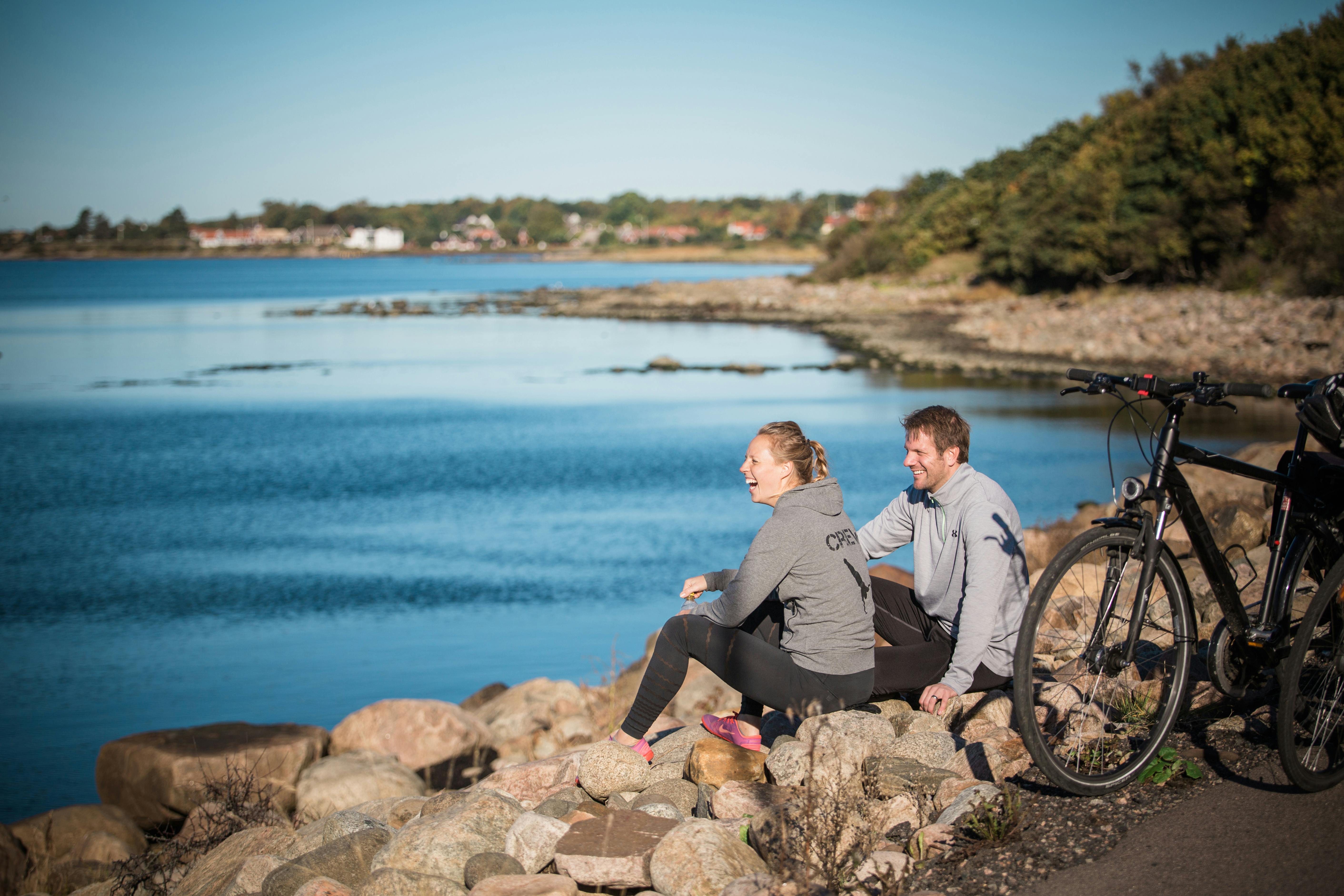 The Kattegat trail runs along the coast from Helsingborg to Gothenburg.
Stage 3. Ängelholm – Båstad
From Ängelholm, the Kattegat trail meanders along the coast. You pass across the river Rönne, where you can try your hand at canoeing or stand up paddling. Then move on to the harbor and continue past  tiny coastal villages such as Skepparkroken, Björkhagen before reaching Vejbystrand. Here, you can cycle through open meadows with nature reserves, several smaller coastal communities and picturesque wooded areas.Continue on to Torekov and you will chance upon a wonderful selection of cafes and restaurants. Then the trail takes you further across Bjärehalvön's farmlands before you pass Norrviken's gardens and finally reaches Båstad harbour.
Stage 4. Båstad – Laholm – Halmstad
From the harbor in Båstad you follow the sea and the coastline until you cross the border between Skåne and Halland. Once you have crossed the border into Halland you can pedal alongside one of Sweden's longest sandy beaches and through the seaside resorts of Skummeslövstrand and Mellbystrand. These are perfect stops to enjoy an ice cream in the sun or a leisurely meal at any of the several beachside restaurants. About 20 minutes from the trail is charming Laholm with Halland's oldest town center, Sweden's only drawing museum and a lovely city park. If you have time, make a detour here. You won't regret it.
The trail then takes you past thickly wooded forests and picturesque nature reserves, and continues on towards Halmstad's center and this stretch finally ends at Halmstad Castle.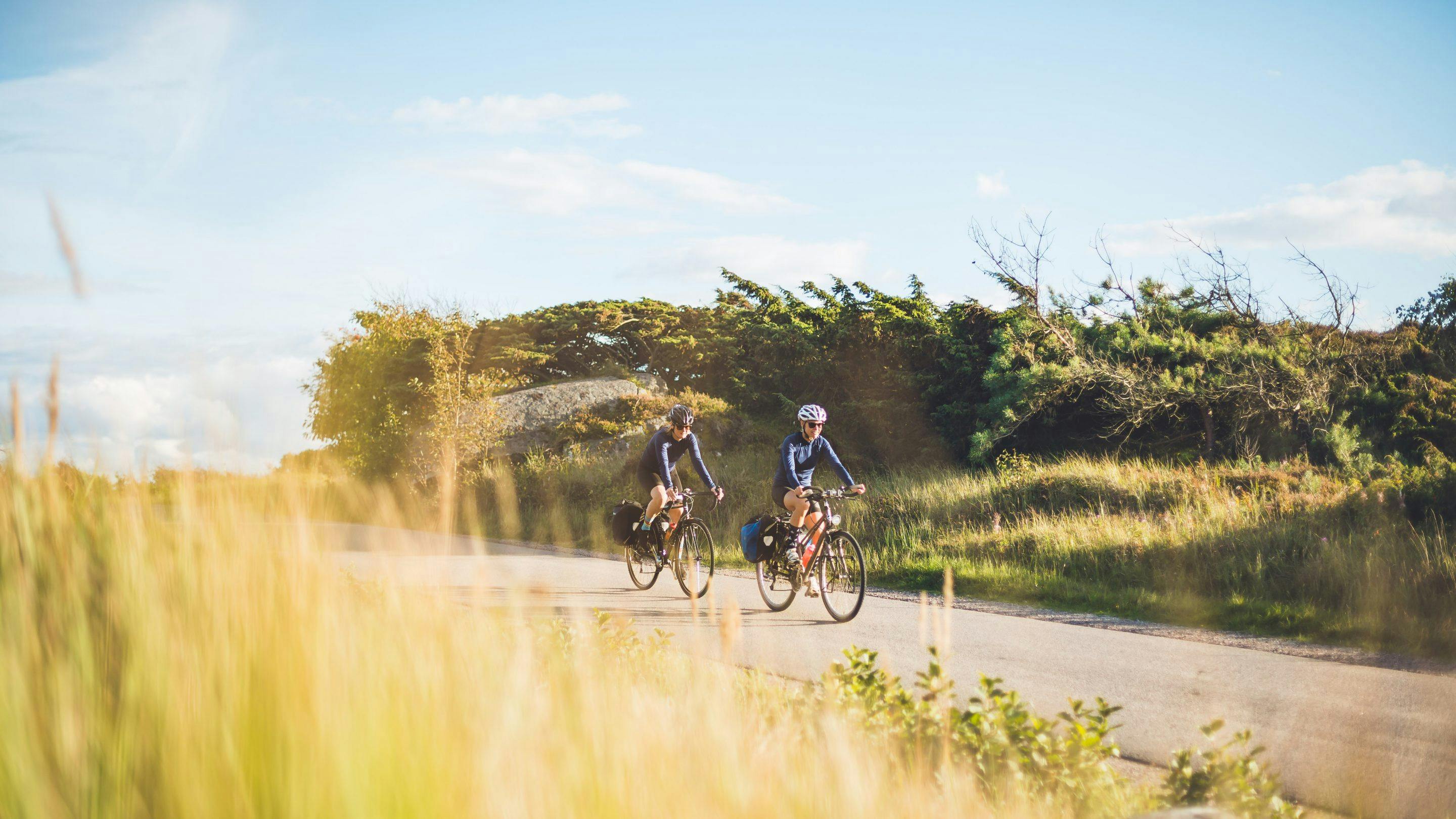 Stage 5. Halmstad – Falkenberg
The trail continues west towards one of the west coast's most popular beaches – Tylösand. All through summer, the beach is patrolled by professional lifeguards, so you can take a dip safely here. But Tylösand is not the only beach on this stretch. You have Frösakull, Ringenäs and Vilshärad's beaches before the trail turns east to connect to Kustvägen. You can stop here and visit the windmill in Särdal, where there is both a café and a farm shop.Moving on, you will encounter several beautiful nature reserves both before and after the charming village of Steninge. After Steninge, the trail snakes through lush farmlands that spread out at Steninge beach. Feel free to stop for a picnic here.
The glittering sea, open landscapes, scenic nature reserves and cozy farm shops – there is much to experience along this wonderful stretch all the  way up to Falkenberg, where this stretch ends.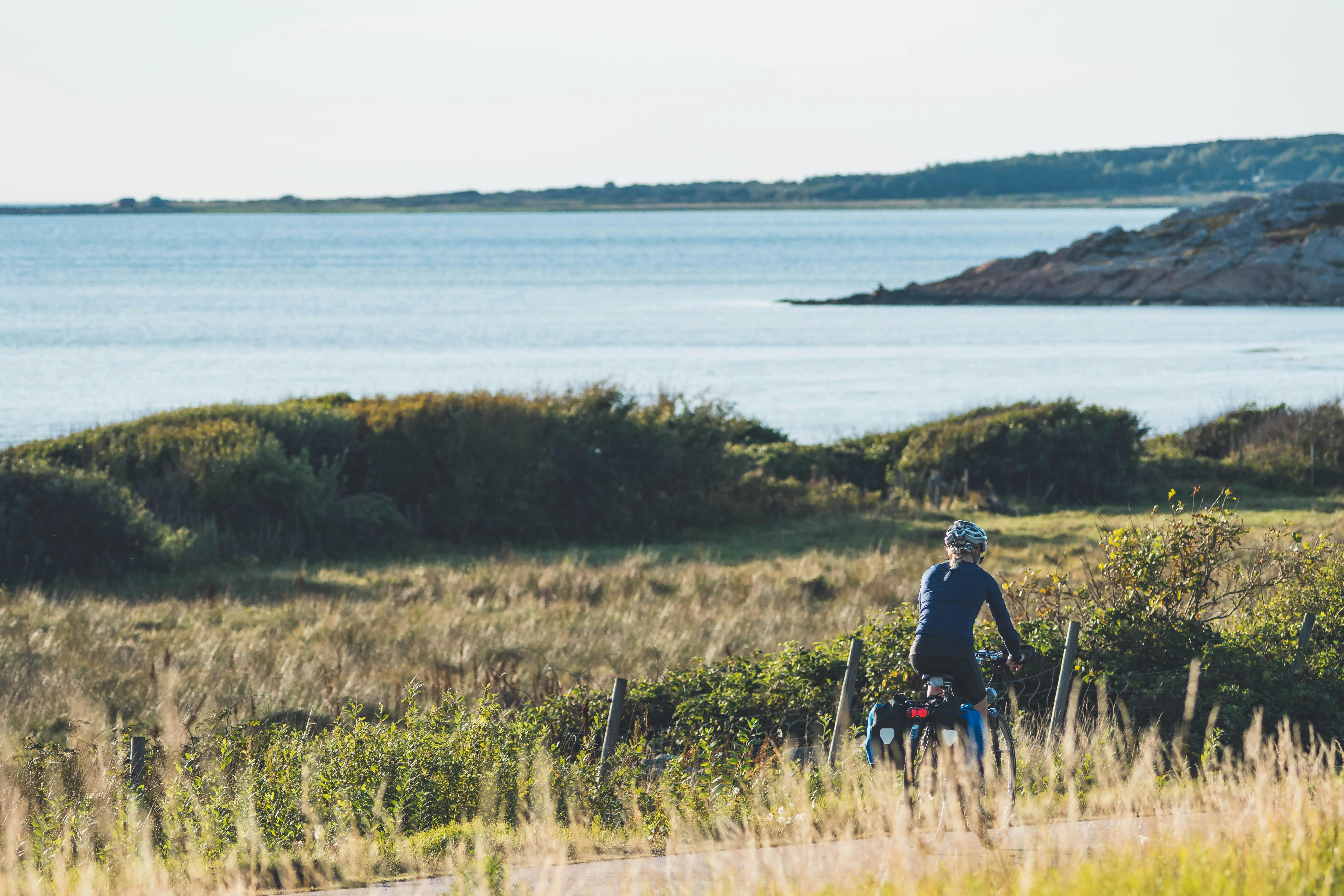 In Ugglarp, ​​the Kattegat trail runs right by the sea.
Stage 6. Falkenberg – Varberg
The cycle path continues through Falkenberg's city, which is one of Halland's oldest medieval towns. Then it continues along the sea through the open landscape. Along the trail to Varberg you will pass through a lush nature reserve, picturesque fishing villages like Glommen and Träslövsläge, nice small farm shops and plenty of more interesting spots. On your approach to Varberg, the final destination of this stage, you will come across Apelviken beach, a popular spot with windsurfers who come here from all over Europe. Beyond that is the beach promenade which leads you to Varberg's fortress , the harbour and the very beautiful bath house that you absolutely must not miss.
Stage 7. Varberg – Kungsbacka
After Varberg the landscape undergoes a dramatic change.  Soft sandy beaches give way to barren cliffs. Just after Åskloster near Limabacka, the trail leads down towards Bua harbor, one of Halland's largest fishing villages. (At Buas INFOPOINT you can get tourist information.) Past Bua harbor, you go through Frillesås on to the beach at Åsa, a perfect pitstop for an ice cream. You can make a detour here to visit Tjolöholm Castle which is Sweden's only castle in Tudor style or to naturum Fjärås Bräcka where you can enjoy the beautiful landscape and the fantastic view of the Kattegat and the lake Lygnern. Back on the trail, you pedal through rolling meadows before reaching Kungsbacka.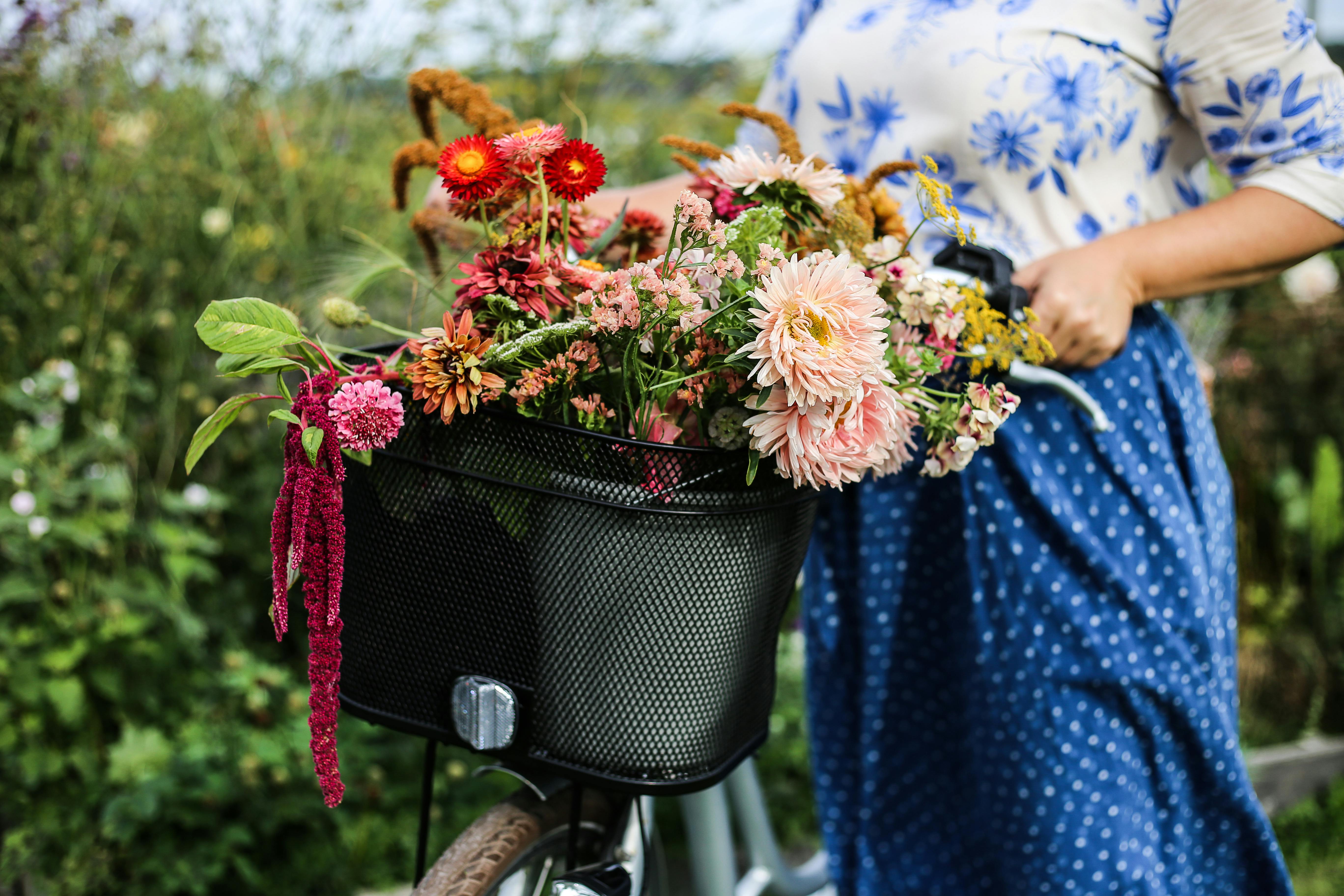 Take the opportunity to stay and enjoy the surroundings along the beautiful Kattegat trail.
Foto: Kristin Lagerqvist
Stage 8. Kungsbacka – Göteborg
From Kungsbacka the trail leads you further along the Kungsbackafjord to Särö and Säröbanan's pathway along the sea where there are plenty of bathing areas. In Gothenburg you come to Järntorget that takes you to central Gothenburg where the trail ends at the Central Station.
If you feel that doing the entire 390 kilometres is a tad too much, you can choose and pick which part of the trail you want to go on, and then  bring your bike on a train to that starting point.
Learn more and plan your biking experience!
A lot more information plus tips on accommodation and food along the trail is available at kattegattleden.se/en